At DKI Rubber & Plastic Ltd, we can manufacture a variety of custom rubber sealing devices for both static and dynamic applications. Our rubber seals can be manufactured in a variety of shapes, sizes and elastomers, depending on your specific application.
DKI high performance rubber seals are utilized by the automotive, plumbing, medical, food, and general industrial markets to provide the rubber seals necessary to make their respective products function.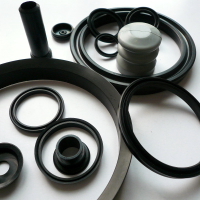 DKI also offers a variety of specialty rubber seals offered in elastomers such as FDA compliant elastomers to meet the application requirements. From high or low pressure exposure, fro hydraulic sealing applications to ranging temperature and chemical exposures.

Custom rubber seals and elastomeric seals can be manufactured in a range of materials and configurations including thermoset rubber (i.e. EPDM, NBR, FKM), thermal-plastic rubber and elastomers to reinforcing substrates like rubber boned to metal. We also offer internally lubricated custom seals for high wear dynamic applications.
Your possibilities with our varied molding options are almost limitless, including compression, transfer injection molding capabilities.
If you require further information or enquire, please contact us. Simply call us on: +8620 36013580, or e-mail us: sales@dkirubber.com.