At DKI Rubber & Plastic Ltd, we design and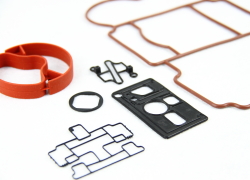 manufacture a variety of custom molded rubber seals and molded rubber components for across a wide range of applications and industries from automotive, hydraulics, plumbing, medical, food & beverage, commercial, recreational, industrial and many others.
After analyzing your product, its dimensions, material, and anticipated volumes, we can recommend that manufacturing method which best suits your particular needs and specifications.
We will work with you from product concept, to prototype and design development, and through the ongoing production of precision custom rubber components.
Your possibilities with our varied molding options are almost limitless, including compression, transfer injection cast molding. Extrusion is also available for simple profiles.
All of our molded rubber seals and components are custom designed for your application enabling us to meet almost any specification.
Whatever your sealing requirements, DKI has the means to exceed your expectations.

Common custom molded shapes applications include:
| | | | |
| --- | --- | --- | --- |
| Custom Seal | Rubber Bumpers | Rubber Gaskets | Grommets |
| Convoluted Boots | Formed Hose | Flow Control | Rubber Caps |
| Diaphragms | Rubber Plugs | Rubber ball | Vibration Isolators |
Full range of advanced material are available, please visit our material guide for more information.
If you require further information or enquire, please contact us. Simply call us on: +8620 36013580, or e-mail us: sales@dkirubber.com.