X-Rings, also known as Quad-Rings®, can be used in a wide variety of static and dynamic sealing applications. With the unique 4-lobe configuration, X-rings have 2 sealing areas per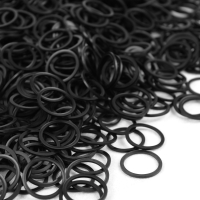 side as opposed to 1 sealing area on an O-ring. X-rings require less squeeze to maintain an effective seal; therefore, reducing friction and increasing seal life. Their 4-lobe configuration also helps to eliminate the seal from twisting in the groove causing premature failure.
X-rings have the same dimensions as the AS568A O-ring sizes, also referred to as standard size O-rings. They are available from various compounds to suit your particular application.
A Square-Ring is a sealing device made in the form of a torus, with a square shaped cross-section. It is available in a variety of elastomeric and thermoplastic materials. In most static applications, it is a direct replacement for an O-ring and generally will perform a high pressure gasket function as well as or better than an O-ring.

**Interchangeable with O-ring size for size.
** Uses same groove as o-ring.
** Can be used for radial seals.
** Material is homogenous, no joints, no laminations.
** Edges accurately formed.
** Close tolerances held on cross-section. I.D. and O.D.
** Controlled surface smoothness, hardness, elasticity, toxicity, texture.
** The modern, economical option for static applications.
** Available in many compounds